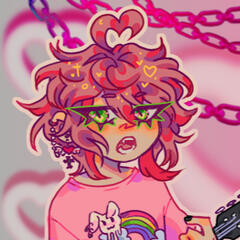 ☆ eruukat ☆
el // they/them, she/her // 21
tumblr link goes to my main blogs about page! there you can find my main + ff blog, my art blog, and my vocaloid + side blog

amino link goes to my vocaloid amino acc

discord is el#9122 ! feel free to add me but please lmk u came from my carrd so that ik ur not spam !

icon by me ; roro art (above byf) by manbou no ane. all other art is official
some notes + byf!
feel free to interact/dm ! id love to make mutuals + chat more, im just awkward lol

i tend to forget when ive clicked on an account, so if i like/rb/retweet spam u, i am so sorry

my accs should be largely sfw; i tag for nsfw jokes on tumblr if you want to block that

i usu dont tag cw's; lmk if youd like me to!

im okay with minors following me/having casual interactions (eg sharing hcs in the comments), but for the sake of keeping boundaries id prefer not to dm/swap discords/etc w/ anyone younger than 17
interests!
special interests: ff (faves r viii and xiii) ; vocaloid + other vocal synths (+ so so many headcanons)

anime: fruits basket, evangelion, jojos, free, misc

games: persona 5, drakenier, kotor, mass effect

misc: kpop, visual kei, alt fashion, homestuck, star wars, casual engagement w/ nostalgic media (mlp, monster high, etc)

im interested in a lot of video games (esp jrpgs, visual novels, dating sims, rpg maker/itchio games) even though i havent played most of them! i rlly like looking up new media even tho i struggle 2 get into new things

☆ portfolio ☆
☆ please scroll to see all images ☆
☆ click to see full image ☆